A few days ago, we released the review for the ASRock X570 Extreme4 (Italian), a solid and interesting motherboard with a great price/perf ratio, especially when compared to higher end products we reviewed and analyzed; today we'll take a deeper look at its power delivery section, and see if it's adequate to the rest of the mainboard and its price tag.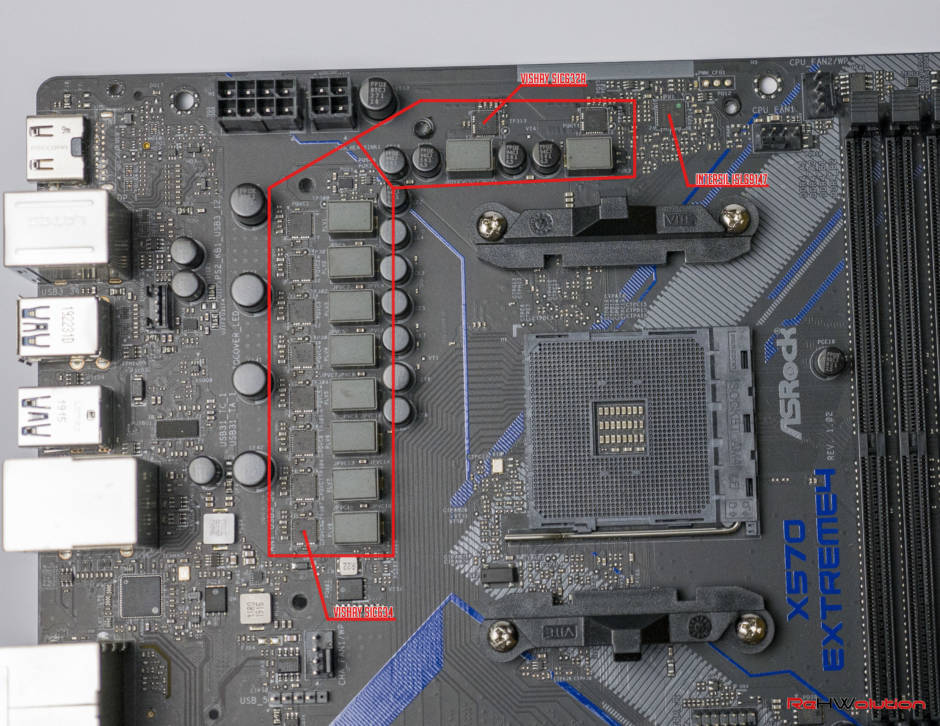 VCore, SOC and Controller
The ASRock X570 Extreme 4 has an excellent power delivery section, despite being a mid-tier motherboard: it's composed by a total of 10 phases, controlled by the Intersil ISL69147, the same controller we found on the X570 Phantom Gaming X analysed a few days ago, which can be seen as an AMD-only version of the ISL69138.
Obviously, due to the 7 maximum phases handled by the controller, the only way to achieve 10 phases, 8 for the Vcore and 2 for the SOC, is to use doublers: indeed, 4 doublers are located on the back of the board, precisely 4 Intersil ISL6617A, smart doublers with load balancing, current monitoring and overvoltage protection.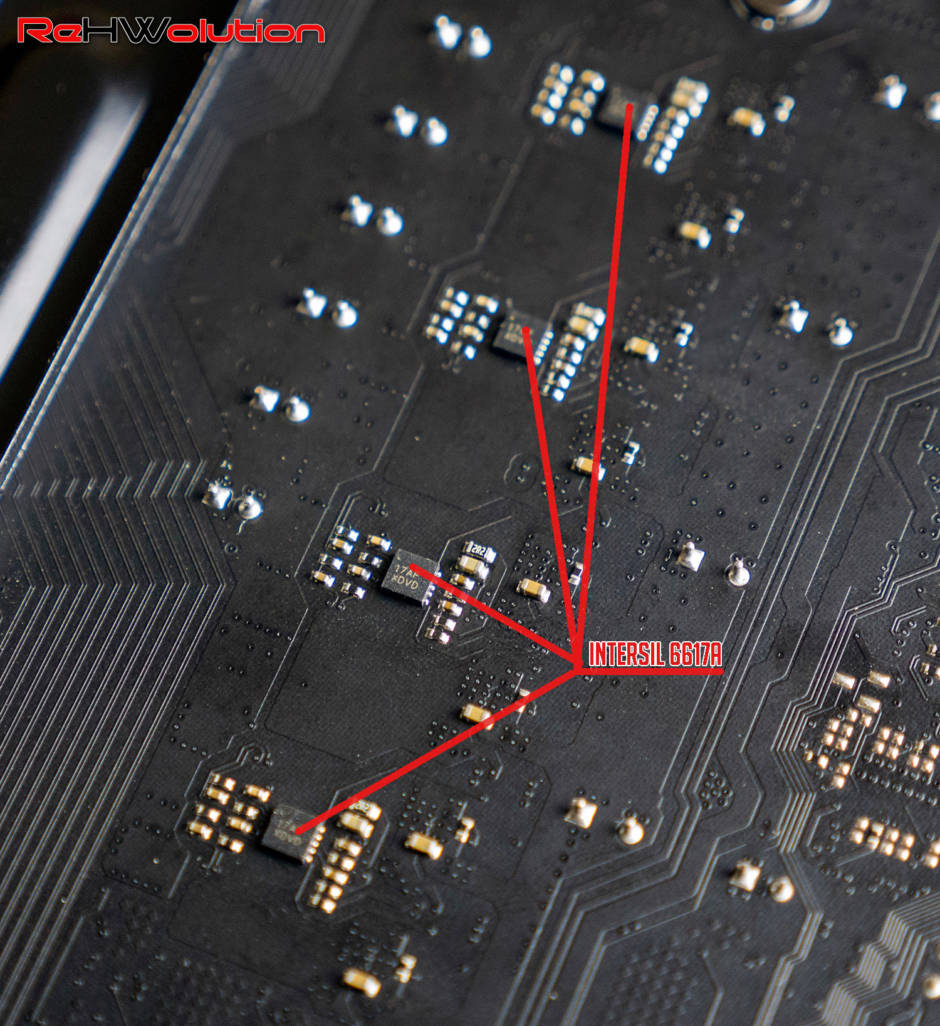 The 8 phases used for the VCore are the Vishay SiC634, rated for 50A each, while the remaining 2 phases used for the SOC are the Vishay SiC632A, rated for 50A as well, and the configuration is then arranged as (4×2)+2.
Let's take a look at the efficiency of the VRM with the heat output of the VCore based on the load:
| | | | |
| --- | --- | --- | --- |
| VCore | Switching Frequency | Current | Heat |
| 1,0 V | 500 kHz | 100 A | 8 W |
| 1,0 V | 500 kHz | 150 A | 15 W |
| 1,0 V | 500 kHz | 200 A | 22 W |
| 1,0 V | 500 kHz | 250 A | 32 W |
| 1,0 V | 500 kHz | 300 A | 46 W |
| 1,0 V | 500 kHz | 350 A | 65 W |
| 1,0 V | 500 kHz | 400 A | 92 W |
100A to 200A is the range in which the R7 3800X, R9 3900X and R9 3950X would normally behave, ranging from stock clocks to ambient-cooling overclock, and yet the total heat produced by its phases will easily be handled by the, overall good, heatsinks installed on the VRMs.
The cooling blocks used are more than capable to handle even an overclocked Ryzen 9 3950X, thanks to the efficiency of the power phases, which would generate around 22W, meaning a bit less than 3W per phase, a really interesting result.
Current values higher than 200A are usually experienced in exotic cooling, such as Liquid Nitrogen overclocking, although you will hardly reach those values, due to the motherboard features limits, the overhead will represent better efficiency and less heat generated.
The phases are cooled by two aluminium blocks (Super Alloy XXL) with a substantial mass and have "aerodynamic" fins to improve heat dissipation as well as some "holes" inside to improve thermal convection.