January 10th, 2019 – "The EVGA Z390 DARK is a 3rd generation model built exclusively for ultimate performance with improved and upgraded component selections, VRM, NVMe I/O, and PCB layout, compared to the flagship X299 DARK."
– Illya "TiN" Tsemenko
The power of the DARK side of EVGA's Z390 motherboards is now available! After setting the bar with the X299 DARK, EVGA went back to work to design the next generation of motherboards designed exclusively for the world's top overclockers… or those looking to become one of the world's top overclockers. No effort was spared to improve the power design, layout, or features of the Z390 DARK.

The Z390 DARK is the first motherboard to feature both the 24-pin power connector alongside both 8-pin CPU power connectors as right-angle connectors on the side of the board. Not only does the layout give the DARK a stunning look but the layout also provides a very friendly design for cable-management enthusiasts. This revolutionary design features: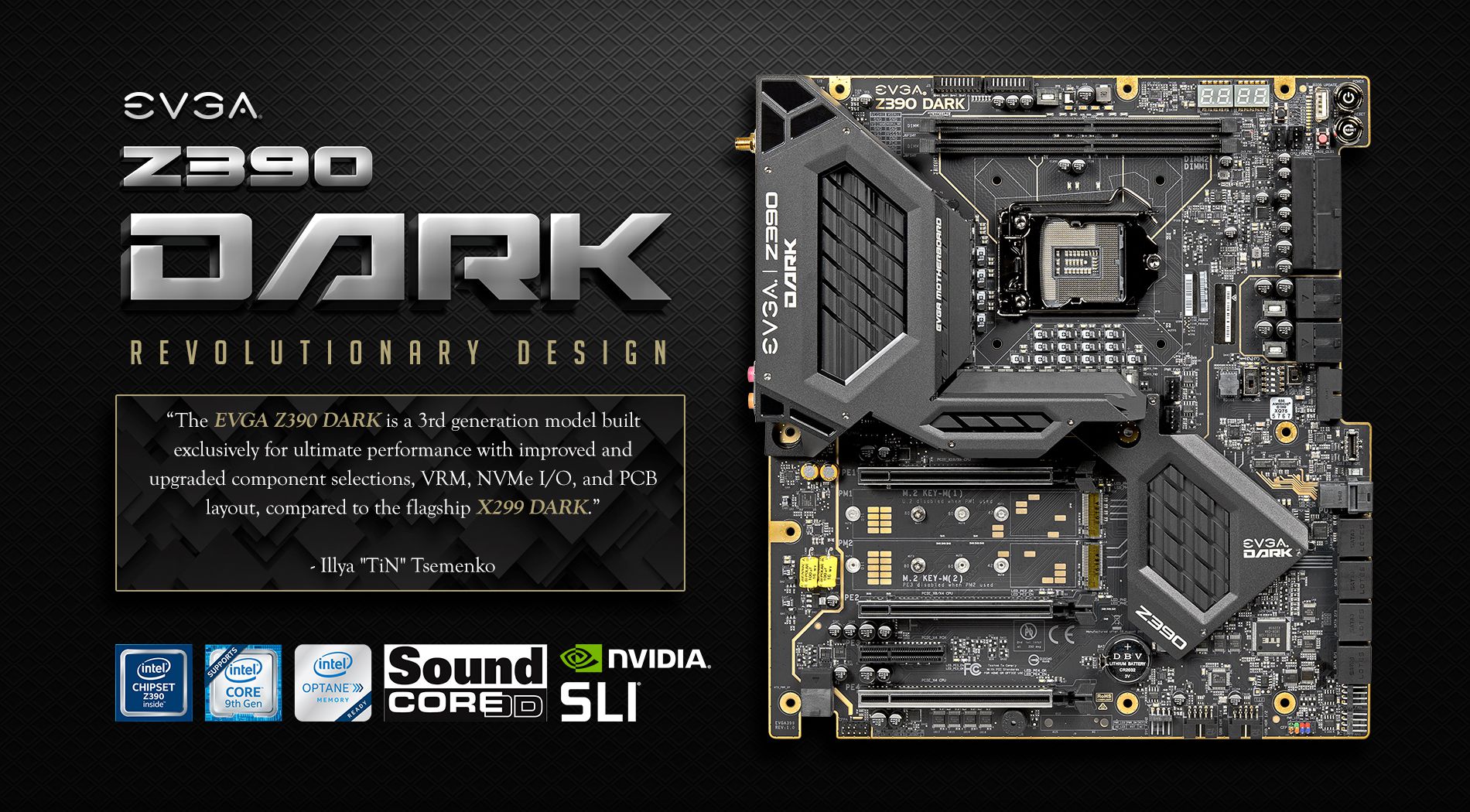 The CPU Socket is turned 90-degrees, which allows the memory to run parallel to the top of the chassis
The entire VRM is cooled with a large passive heatsink.
This design allows for chassis airflow to pass unimpeded over the top of the power connectors, across the cpu and memory, and through the rear-panel heatsink.
The DARK comes fully equipped with useful LEDS of all types…for monitoring system and component status, and displaying temperatures and voltages. Additional must-have features include:
USB BIOS Flash Without a CPU – The dedicated internal USB port on the motherboard allows you to update your motherboard BIOS even if you don't have a CPU or cannot boot into the motherboard BIOS.
Multi-Function POST Indicator – Fully configurable in BIOS, these LEDs can be configured to show temperatures, voltages or cycle both in real-time.
Right Angle Headers – 24-pin power, both 8-pin CPU power, Fan, Probe-It, and USB 3.1 Gen1 headers – Hand-crafted design to provide clean system assembly without cable clutter.
Visual Guide / Bench Table – Every EVGA Z390 Dark is packed with a printed PCB showing components, LEDs, PCIe lane breakdowns, and other helpful information. More importantly, this PCB with included standoffs doubles as an open-air testing or benching station, providing clearance for heaters, condensation isolation, and storage devices.
PCIe / DIMM Status LEDs – PCIe / DIMM status LEDs allow for easy system assembly and troubleshooting at a glance.
The EVGA Z390 DARK is finally here to convince you to give yourself to the DARK side of the EVGA Motherboard lineup. Go on, the DARK is waiting.
Specification
Chipset: Intel Z390
Socket: Intel Socket LGA1151, 8th and 9th Gen Intel Core i3/i5/i7/i9 Coffee Lake-S Processors
Form Factor: E-ATX
SLI: 2-Way SLI
Memory: 2 DIMM Dual-Channel (up to 32GB) DDR4 4600MHz+
Display Outputs: 1x mDP
USB: 4x USB 2.0 (4 Ports from 2 Internal Headers)
USB 3.1 (Rear I/O): 4x USB3.1 Gen2 Type-A, USB3.1 Gen2 (From ASM3142) 1x Type-A/1x Type-C, 2x USB3.1 Gen1
USB 3.1 (Internal Header): 1x USB3.1 Gen2 Type-C, 2x USB3.1 Gen1 (2 from Internal Header) with USB Power Delivery Support
SATA: 6 Native SATA 6.0Gbps Ports / 2 ASMedia SATA 6.0Gbps Ports
M.2 Key-M: 2x 110mm Slots (Up to 32Gb/s) / M.2 Key-E 1x 32mm Slot
U.2: 1x U.2 PCIe NVMe port
Ethernet: 2x Intel Gigabit NIC
Audio: Creative Sound Core3D Quad-Core Audio Processor
Fan Headers: 8 (2 CPU PWM, 6 PWM/DC)
Key Features
Highly-Efficient 17 Phase Digital VRM
Intel Optane Memory Ready
New Integrated EVGA Wireless Module with Intel Dual-band WiFi / BT5.0 with external antenna
Reinforced PCIe slots
EVGA's Latest GUI BIOS Featuring OC Robot and In-BIOS Stress Testing
SafeBoot button to reset the motherboard and go into the BIOS with last known good settings without clearing CMOS
Slow Mode switch locks CPU multiplier to lowest possible setting to allow users to switch between max OC and low speeds in real-time.
SPI flashing via USB allows you to flash your BIOS without a CPU
Onboard Temperature and Voltage Monitoring
Onboard Clear CMOS, Power and Reset Buttons
Triple BIOS Support
EVGA E-LEET X Tuning Support