European gaming brand IRDM presents IRDM DDR5 memory modules – U-DIMM with great overclocking potential and speeds up to 6800 MHz. The latest memory model in the IRDM portfolio is dedicated primarily to those users who put their speed and performance first.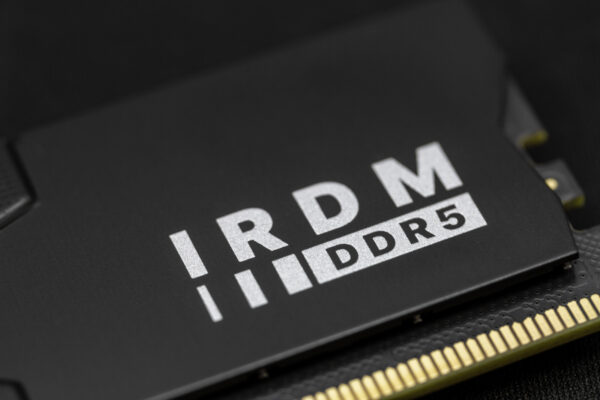 IRDM DDR5 memory modules offer a whole new quality of uninterrupted operation and gameplay, providing as much as a 50% increase in bandwidth over generation four. IRDM DDR5 memories are available in a wide range of speeds: 5600 MHz (CL30), 6000 MHz (CL30), 6400 MHz (CL32) and 6800 MHz (CL34). For each of these options, the modules are sold in Dual Channel kits: 2×16 GB or 2×32 GB.
IRDM DDR5 modules deliver tremendous speed and performance efficiency with stable operation and lower power consumption. They consume up to 30% less power compared to DDR4.
Impressive performance of the modules will be successfully utilized by gamers, overclocking fans and professionals who use photo and video editing, rendering or big data programs on a daily basis. All of the aforementioned require top-of-the-line, high-speed PC sets supported by the latest fifth-generation memory modules.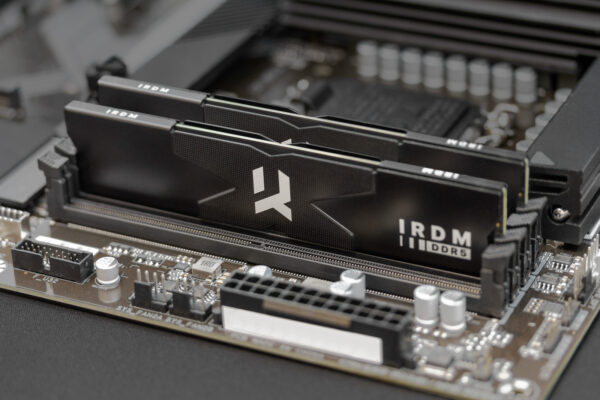 DDR5 is a technological revolution in terms of quality and performance. The increase in operating comfort and speed of hardware will be felt especially by those users who migrate to the new standard by switching from older technologies such as DDR4 or DDR3.
In the case of DDR5 standard, the achievement of high speeds, capacities and performance would not have been possible if not for changes in the architecture of the DDR5 DRAM chip and the use of a number of cutting-edge solutions available, which were previously reserved exclusively for advanced server solutions.On-die ECC technology (ECC), previously found in server solutions, eliminates bit errors in the DRAM module, thus achieving the maximum possible reliability. One of the most important components of fifth-generation memory is the PMIC (Power Management Integrated Circuit). It ensures energy efficiency and voltage stability.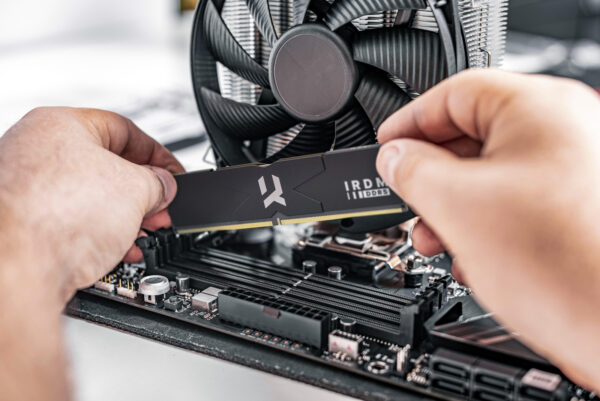 IRDM DDR5 are equipped with SPD HUB, which is a set of circuits having, among other things, an integrated temperature sensor. It allows the transfer of important data to configure settings like  speed, latency, and in the case of IRDM modules with OC potential – loading the XMP™ 3.0 or AMD EXPO profile.
"We are pleased that IRDM's portfolio is expanding with another model of high-speed DRAM. After a temporary market slowdown, memory modules of the fifth generation have gained real momentum presenting huge potential and advantages over older technologies," emphasizes Wieslaw Wilk, the President of Wilk Elektronik. "I can reveal that the presented IRDM DDR5 memory modules are not the only ones we have planned for release this year," adds the company's CEO.IRDM DDR5 memory modules are equipped with a low-profile black heatsink. The look is complemented by silver details, stylistically related to the rest of the IRDM series products, including SSDs and DDR4 modules. Polish memories will therefore be a perfect complement to all gaming sets maintained in a classic, pure design.
A guarantee of the quality and reliability of IRDM memory modules is ensured in the detailed testing procedures implemented by the Polish manufacturer. From the very beginning, Wilk Elektronik SA has adopted the strategy of testing each DRAM memory module it produces on one of more than 500 test platforms at the disposal of the Polish factory. That is why, like all RAM from a Polish manufacturer, DDR5 modules also come with a lifetime warranty.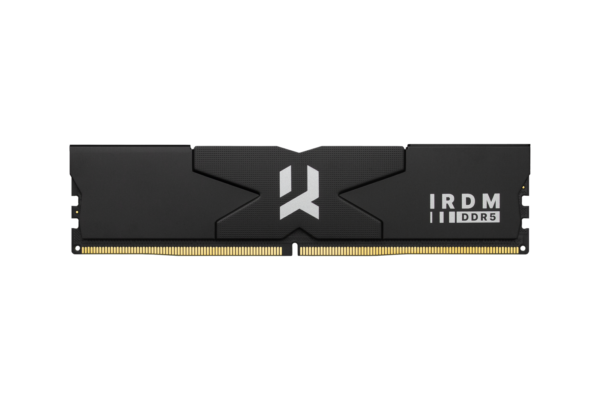 Parameters:
| | |
| --- | --- |
| MODULE TYPE | UDIMM DDR5 |
| CAPACITY | 32 GB (DC), 64 GB (DC) |
| SPEED | 5600 MHz, 6000 MHz, 6400 MHz, 6800 MHz |
| LATENCY | CL30, CL32, CL34 |
| SUPPLY VOLTAGE | 1,25 V, 1,35 V, 1,45 V |
| PCB COLOUR | BLACK |
| HEATSINK COLOUR | BLACK |
| WARRANTY | LIFETIME |
Press release.